Unleash Your Creativity with the New Boss ME-90 : A Game-Changer for Guitarists
Unleash Your Creativity with the New Boss ME-90 : A Game-Changer for Guitarists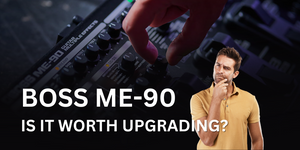 Greetings, music enthusiasts! Today, we have an exciting piece of news to share with you. Boss, the renowned manufacturer of guitar effects pedals, has unveiled their latest masterpiece: the Boss ME-90. Packed with innovative features and boasting an exceptional sound quality, this multi-effects unit is set to revolutionize the way guitarists approach their craft. Join us as we dive into the world of the Boss ME-90 and explore the limitless possibilities it offers to musicians of all levels.
A Comprehensive Arsenal of Effects
The Boss ME-90 is an all-in-one solution, combining a wide array of effects into a single, intuitive package. From classic distortions to ambient reverbs, this versatile unit offers over 50 high-quality effects to choose from. Whether you're a blues aficionado or a metal shredder, the ME-90 has the tools to bring your sound to life. Its robust selection of effects ensures that you'll find the perfect tone for any genre or playing style.


Unmatched Sound Quality
At the heart of the Boss ME-90 lies a powerful and precise digital signal processing engine. This cutting-edge technology guarantees exceptional sound quality, maintaining the integrity of your tone throughout your signal chain. Whether you're playing through headphones, studio monitors, or a live rig, the ME-90 delivers pristine audio reproduction, capturing every nuance of your playing with remarkable clarity and depth.


Effortless Creativity with Easy-to-Use Controls
One of the standout features of the ME-90 is its user-friendly interface. Boss has designed this unit with simplicity in mind, ensuring that musicians of all skill levels can harness its full potential. The intuitive control layout allows for quick and seamless adjustments on the fly, so you can focus on expressing yourself without being hindered by complex menus or convoluted settings. Dive into the ME-90, experiment with various effects, and discover new sonic landscapes effortlessly.


Seamless Integration into Any Setup
The Boss ME-90 is designed to be the centerpiece of your rig, easily integrating with your existing equipment. With its stereo outputs, you can connect the unit to amplifiers, mixers, or recording interfaces, ensuring that your sound translates perfectly in any scenario. Furthermore, the ME-90 can be operated in both stompbox mode and preset mode, allowing you to customize your setup to suit your preferences. Whether you prefer the simplicity of individual effects or the convenience of pre-programmed presets, the choice is yours.


Built to Withstand the Rigors of the Road
Boss has a well-earned reputation for crafting rugged and reliable gear, and the ME-90 is no exception. Built to withstand the demands of both studio work and live performances, this unit features a sturdy construction that ensures it can handle the rigors of the road. Take it on tour, use it in the studio, or simply play it day after day—the Boss ME-90 will be your trusty companion, always ready to deliver.


The Boss ME-90 is a game-changer for guitarists, offering a comprehensive range of effects, outstanding sound quality, and intuitive controls in a robust and roadworthy package. Whether you're a seasoned professional or just starting your musical journey, the ME-90 empowers you to explore new sonic territories and unlock your creative potential. Join the revolution, and experience the future of guitar effects with the Boss ME-90. Your audience awaits, so go ahead and unleash your creativity like never before!