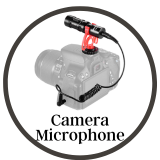 Camera Microphones
Welcome to Zoso Music Online Malaysia, your ultimate destination for camera microphones designed specifically for vlogging, streaming, YouTube videos, and content creation. Whether you're a professional content creator or an aspiring enthusiast, our selection of camera microphones is tailored to enhance your audio quality and take your productions to new heights.
Our camera microphones are carefully crafted to deliver exceptional sound reproduction, capturing every detail with precision and clarity. Whether you're recording interviews, capturing live performances, or shooting on-location videos, our microphones ensure that your audience experiences immersive audio that complements your visual content.
Designed to be compatible with various camera types, including mirrorless cameras and DSLRs, our camera microphones offer seamless integration and easy setup. They feature directional pickup patterns to focus on the desired sound source while reducing background noise, ensuring that your recordings are professional and polished.